There's no substitute for the right people. Indeed, Grafix's exceptional staff is the real "secret sauce" that makes it possible for us to support your success so well. Get to know us!
Industrial Products Division
Our Industrial Products Division team is all about connecting you with our products the way you need 'em!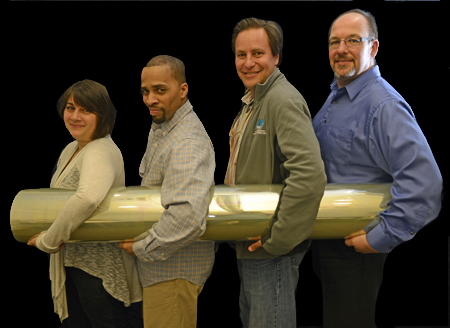 Left to Right:
Abby Kitay is our newest inside salesperson. The token Wolverine in an otherwise Buckeye universe, Abby really enjoys the variety of people she gets to meet and the range of interesting applications for Grafix Plastics' products she gets to learn on the job. A "baseball mom" and "rowing mom" in her free time, Abby also enjoys weight training with her whole family.
Kenrick Bachelor is the team's can-do guy. He loves working with the extended Grafix family and is willing to do what it takes to get the job done! Ken likes camping in his free time; Hocking Hills is his favorite hangout.
Jordan Katz is Grafix Plastics' president. Jordan loves thinking up innovative new products and uses for existing products. The repository of an insane amount of product and technical knowledge, Jordan has a wicked sense of humor that keeps his whole staff smiling.
Karl Szelpal, our Sales Manager, has an extensive background in sales and sales management, especially for media and print. Karl is amazing at using his resources on behalf of our customers. He also knows THE most obscure facts about movies and tv shows. Ask him to sing you the "F-Troop" theme song some time!
Ready to talk industrial products? Click start an inquiry to connect with us.
Production and Fulfillment
Meet your hands-on teams! These are the folks who turn your order into reality, from manufacturing to packaging and out the door through shipping.
The Manufacturing Team
Organized, detail oriented, and highly dedicated, these are the people that actually make the stuff you order.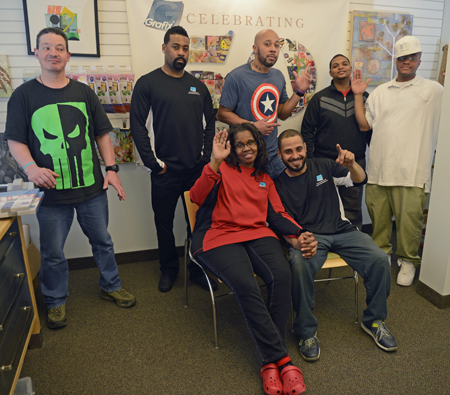 Back row, left to right: John Gaydos, team leader Ken Watkins, Corey Clark, Eric Hall, Derrick Martin. Seated: Tammy Lloyd, DeRon Fletcher.
The Packaging Team
Dr. Yvett Anderson's College of Packaging Knowledge is our brain trust for product and OEM packaging.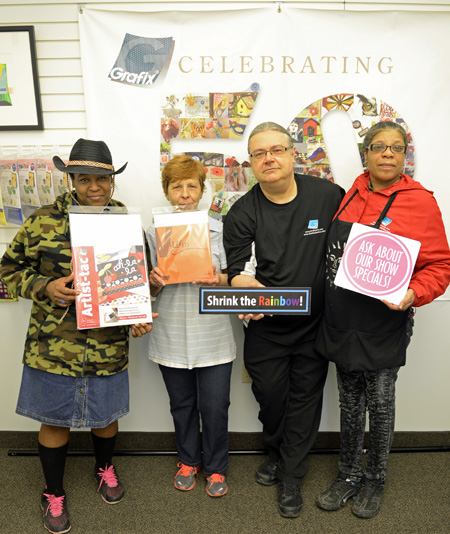 Left to right: Dr. Vickie Jackson, Dr. Eva Kostal, Dr. Brian Davidson, Provost and Dean, Dr. Yvett Anderson.
The Shipping Team
From a flat envelope to full truckloads, if it's on the floor, this team will get it out the door!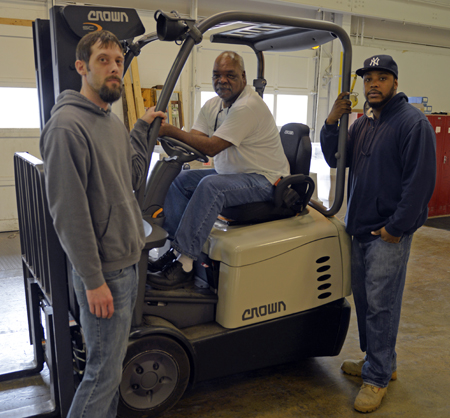 Left to right: Team leader Josh Sulea, LTL guru Leroy Hurt, parcel master Jerrod Evans.
Customer Service
Our customer service team are experts on every detail of your account. Very little gets past these folks, (especially accounts receivables!)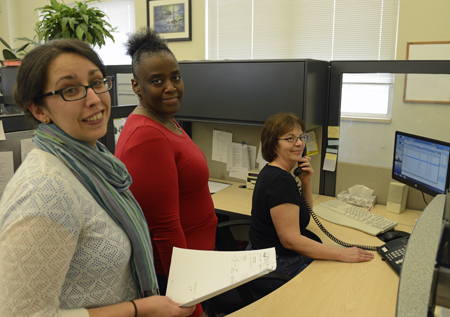 Left to right: Jill Paulett, team leader and longest serving Grafix employee Doris Morton, Mary Lou Baran.
Corporate Folks
These folks are our heroes behind the scenes, overseeing purchasing, IT, personnel, and office management for the entire company.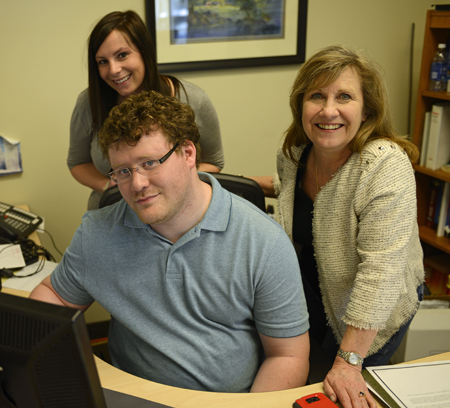 Left to right: Purchasing powerhouse Taryn Sietz, systems and special projects guru Aaron Rapport, general manager Jan Andow.
Consumer Products Division
Grafix Plastics has its origin in our sister division, Consumer Products, which has been developing, manufacturing, and marketing consumer-focused plastic film and sheet products for over 50 years. Highly creative and resourceful, the Consumer Products Division staff leads the industry in supplying art, craft and creative materials to the retail world, and inspiring creative consumers everywhere.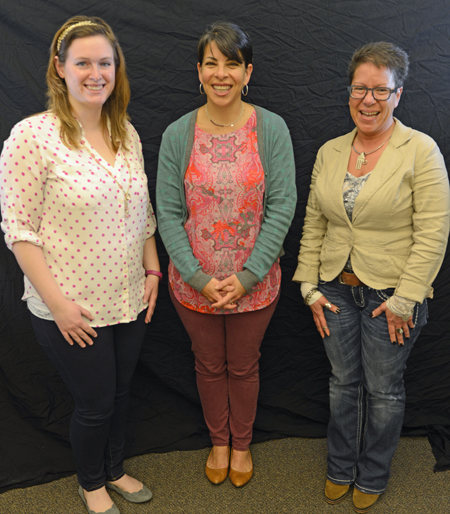 Left to Right: Our newest team member, Kate Boothby, Consumer Products Division President Hayley Prendergast, Sara Kritzer. Hayley recently served as president of NAMTA, the National Art Materials Trade Association.
The Owners
Hayley Prendergast and Jordan Katz are Grafix Plastics' head honchos. It's their vision, values, and ambitions that have catapulted Grafix from its humble beginnings to the industry leader it is today. Their creative thinking and can-do natures have fueled their successfull collaboration for over 20 years. Oh yeah, they're brother and sister too! (Jordan is the older sib).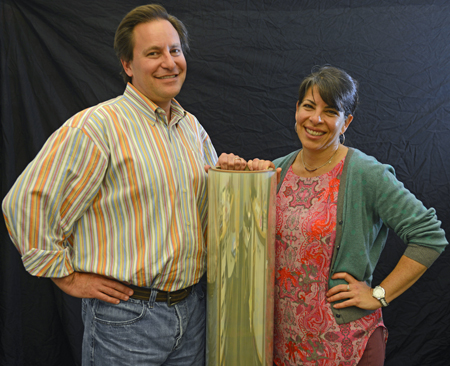 Our people are your people.
Click start an inquiry and get your materials problems solved today. Go on, make our day!